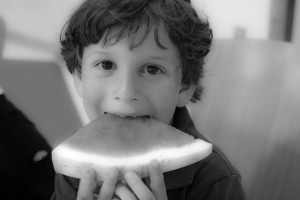 The Child & Adult Care Food Program (CACFP) is a USDA nutrition education program. The program allows Day Care Connection to reimburse licensed family day care homes for nutritious meals served. Providers are given basic meal pattern to follow (based upon ages served). They then choose foods their kids eat best.
How does it work?
Providers can be paid for 2 meals and 1 snack per child, per day. Good food makes healthy kids who are easier to handle and learn better. We'll teach you how simple CACFP is and provide you ongoing assistance through workshops and home visits. It's indeed your own tax dollar coming back to make you a more professional caregiver. Overwhelmingly, parents prefer someone who participates in CACFP, rather than someone who doesn't.
It's easy! We'll never tell you what to serve. You create your own menus using an easy meal pattern. Simply complete menu forms monthly. Then we'll compute your reimbursement check based upon a tiering system (using parent, census figures or caregiver income guidelines) and the money is yours!  You may use our EZ Direct Deposit system, have it mailed or pick it up.
How much does it pay?
Day Care Connection reimburses these meals at a rate set annually by the USDA. (Meal rates effective 7/1/22.) ALL meal rates are currently the same due to Covid relief for caregivers.
| | | |
| --- | --- | --- |
| | Tier 1 | Tier 2 |
| Breakfasts | $1.66 | $same |
| Lunches/Dinners | $3.04 | $same |
| Snacks | $0.97 | $same |
Your monthly check will vary, but the average amount is $872.  This additional "tax-friendly" income sure makes family day care a great alternative to working "outside" the home.
How do I sign up?
Call Day Care Connection: (913) 529-1200.